Co-founders and full-time investors, Steven Jack Butala and Jill DeWit, have been buying and selling property since the 90s. At the request of their wholesale land buying customers, they released Land Academy in 2015; it was a huge success. Now they are sharing their strategies of their wholesale house buying operation as House Academy.
Inspired by our award winning online community LandInvestors.com, House Academy has its very own dedicated online community. Get your questions answered – from peers to pros – and read amazing success stories in real time from our members buying and selling property every day. Steven & Jill regularly contribute.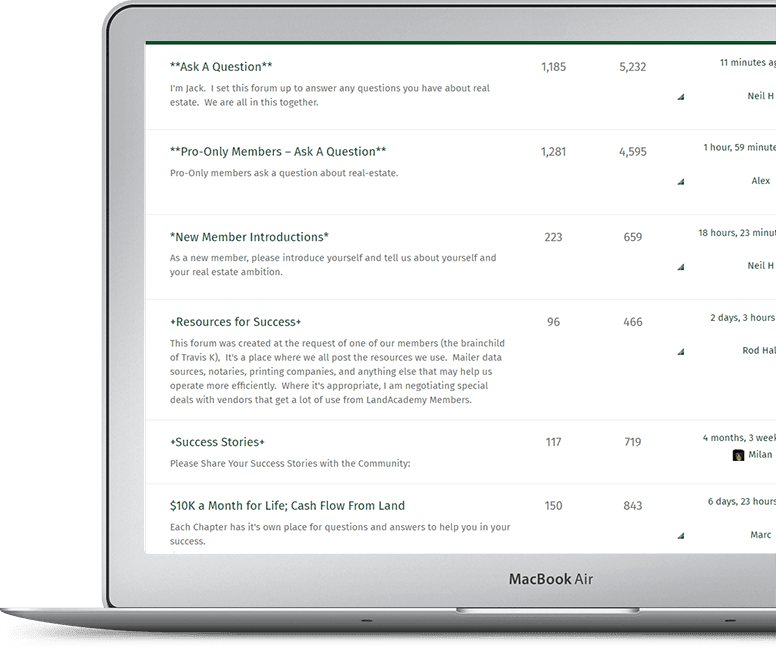 The first of its kind, House Academy is focused on how to find, buy, sell, create and grow a career purchasing / wholesaling houses (SFRs).
Schedule a FREE Consultation
Have questions? We want to hear from you.
Schedule a free 15-minute chat today!
In any real estate investing niche, there is a demand for leads. When looking for houses, most investors fail because they rely on other people for leads and data. House Academy educates you on how to take control of your inbound deal flow with data, work through the process and then how to exit the property.
Justin Sliva,
House Academy Member
I've been working with House Academy extensively for over 6 months and they run a top notch operation! I recommend them to other investors on a regular basis.
JT Olmstead,
House Academy Member